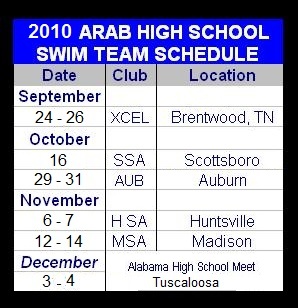 Arab High School Swim Team
Coach/Sponsor: Anne-Marie Graves

Current Physical Required: Physical Evaluation Form

Qualifications: Swimmers must be able to swim each of the four competitive strokes (free, back, breast, & fly) and swim one of the competive strokes continuously for 200 yards. In order to swim at the high school state swim meet, the swimmer must qualify by swimming the state qualifying time cuts.
Lettering: In order to letter for swimming at Arab High School, a swimmer must participate at the high school state meet in either an individual event or on a relay. After your initial letter, hashes will be awarded for each year you letter.

Suits & Caps: Suits must follow NFSHSA & AHSAA guidelines
Swimmer will be awarded their first team Knights cap at the first USA swim meet swam during high school season. Additional caps $15 each.
Meets & other info: AHS Swim team will be participating in USA swim meets in order to make state qualifying times. USA meets are usually 2-day meets and you may swim up to 5 events each day. USA meets are out-of-town and some will require over-night-stays in hotels.

State Meet Hotels

2009 State High School Meet Results
AHS Swim Team TRYOUTS!!
August 26 @ 3:00 pm
Arab City Pool
Who: Any 7th - 12th swimmer
For info email arabswimteam@gmail.com

Tentative Meet Schedule & Practice
Practice Begins August 30
Mon, Wed, Fri 3:45 - 6:15 pm
Saturday 8:00 - 10:00 am

Swim Team Pics: Sept 30 4:00 @ Sullivans
AHSAA Website: AHSAA Swimming Website
2010 Sports Book: Swimming & Diving Sports Book
(includes 2010 state meet info & SQT)