Sponsor: Anne-Marie Graves agraves@arabcityschools.org
___________________________

Cullman Invitational

November 7, 2013 - 4pm
Cullman Wellness Aquatic Center
___________________________

AHS Swim Team Pictures

November 14, 2013 - 4pm
Sullivan's Photography - Joppa, Al
Wear Team T-shirt & Jeans
(optional: bring swim suit, cap, goggles, towel
for props & individual pictures)
____________________________

North Alabama Championship
November 16, 2013 - 4pm
Huntsville Natatorium
____________________________
2013 Arab High School
AHSAA State Qualifier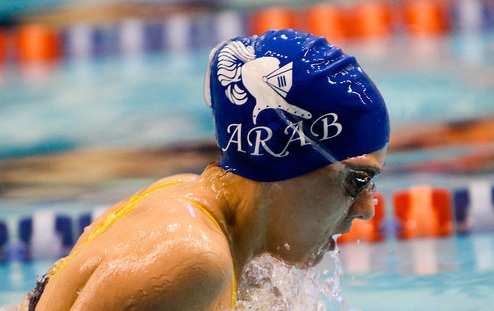 Abigail Isom
__________________________________________________

2013 AHSAA Qualifying Times

Event Girls Boys
50 Freestyle 27.49 24.79
100 Freestyle 59.39 54.69
200 Freestyle 2:11.99 2:04.49
500 Freestyle 5:58.89 5:43.69
100 Backstroke 1:07.79 1:04.29
100 Breaststroke 1:18.19 1:11.99
100 Butterfly 1:07.99 1:02.69
200 Individual Medley 2:31.19 2:20.39
200 Medley Relay 2:06.99 1:58.19
200 Freestyle Relay 1:55.19 1:44.99
400 Freestyle Relay 4:25.69 4:18.89
Standards for Conduct & Eligibility for Athletes

Current Physical Required: Physical Evaluation Form
Qualifications: Swimmers must be able to swim each of the four competitive strokes (free, back, breast, & fly) & swim one of the competive strokes continuously for 200 yards. To swim at the high school state swim meet, swimmers must qualify by swimming the state qualifying time cuts.

Suits & Caps: Suits must follow NFSHSA & AHSAA guidelines. Swimmer will be awarded their first team Knights cap at the first swim meet swam during high school season. Additional caps $15 each.

Meets & other info: AHS Swim team will be participating in USA swim meets in order to make state qualifying times. USA meets are usually 2-day meets and you may swim up to 5 events each day. USA meets are out-of-town and some will require over-night-stays.
Lettering: In order to letter for swimming at Arab High School, a swimmer must participate at the high school state meet in either an individual event or on a relay. After your initial letter, hashes will be awarded for each year you letter.