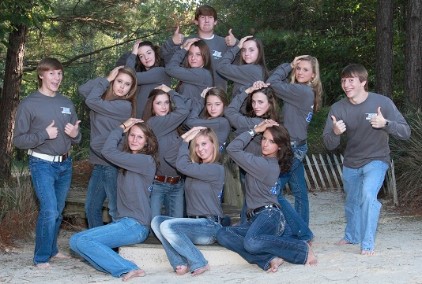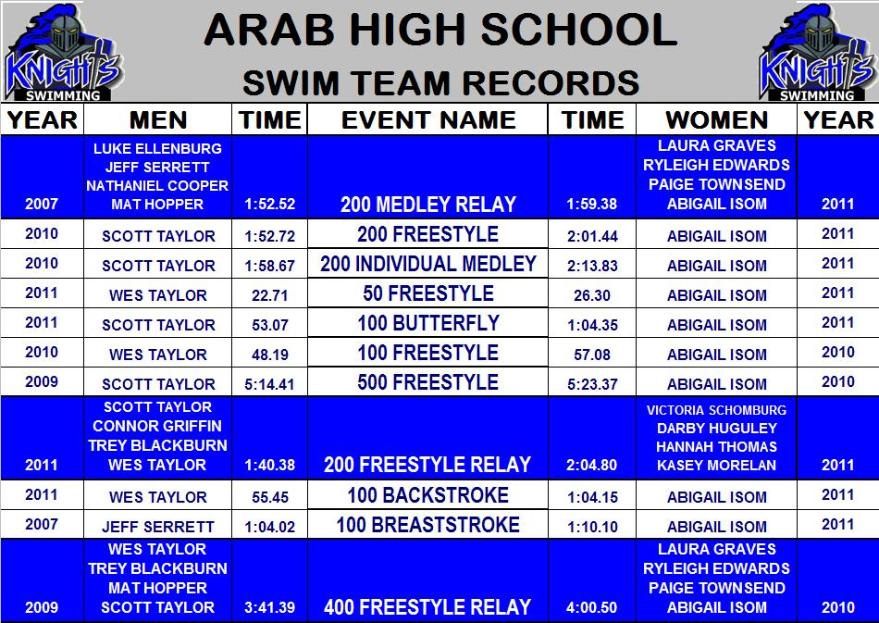 Cullman Invitational

Arab Women 2nd Place & Men 3rd Place
Click here for Complete Results

Cullman Invitational All-Star Team:
Wes Taylor and Scott Taylor
Abigail Isom & Ryleigh Edwards

AHS Relay Team Results:
Women 200 Medley Relay Team won the Gold!
Women 400 Free Relay Team placed 2nd.
(Paige Townsend, Ryleigh Edwards, Laura Graves, Abigail Isom)

Women 200 Free Relay Team broke '04 Record!
(Victoria Schomburg, Darby Huguley, Hannah Thomas , Kasey Morelan)

Men 200 Free Relay Team placed 4th
Men 400 Free Relay Team placed 4th
(Scott Taylor, Wes Taylor, Connor Griffin, Trey Blackburn)
-Scott Taylor & Abigail Isom won both of their events.
-Wes Taylor placed 1st and 2nd in his events.
-Abigail Isom broke the 200 IM team record.
-Ryleigh Edwards captured a SQT in 100 breast,
adding her name to AHS State Qualifiers.
-Laura Graves swam SQTs in both of her individual events.
-Paige Townsend swam a SQT in 100 fly.
-Trey Blackburn, Darby Huguley, Kasey Morelan,
Annaleigh Baggett, & Taylor Johnson all swam personal
bests on 50 Free
-Connor Griffin swam with a football injury but never let us
see him sweat!
-Victoria Schomburg & Hannah Thomas were a part of the
record breaking 200 Free Relay and represented
AHS well.